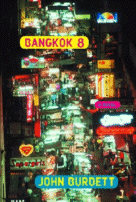 On a friend's recommendation I picked up the book Bangkok 8 by author John Burdett. Set in Thailand, this murder mystery/thriller novel follows police detective and not-quite-ex-Buddhist monk Sonchai Jitpleecheep and his partner, Pichai, on a case to involving a U.S. Marine in Bangkok. They are just a little late in catching up to him, however, when he is found dead, being suffocated and poisoned by a car-full of snakes!
It might sound a bit far-fetched on the surface, but once you start reading you realize that it's completely plausible in Burdett's world and you absolutely will not be able to put the book down! With twists and turns at every corner, there is never a moment where you feel like you have the story figured out and have to drudge through the rest just to say you finished it. Nope… Burdett's brilliant writing keeps you on your toes and wanting more.
Plot notwithstanding (it truly is a magnificent story), what I love the most about Burdett's writing style is his ability to weave Thai culture into the storyline. I'm not just talking about the typical cultural references that we all read about in guidebooks and on the Internet. No, Burdett has worked his way into the Thai consciousness that I imagine only very few farang are able to do, and expertly weaves cultural idiosyncrasies of the Thai people into the story, giving us readers a look at the real Thailand that we would otherwise probably never be able to see or understand.
I was completely blown away at how much I learned about Thailand and the culture from reading Bangkok 8. I never thought in a million years that it would be so much more than just a great piece of fiction. Although I'm obviously just an outsider looking in, I honestly feel like I have tapped into the little-known secret and gotten a rare taste of how things really are in The Land of Smiles.
There are three other books in the Sonchai detective series: Bangkok Tattoo, Bangkok Haunts, and The Godfather of Kathmandu. All are absolutely worth reading – I suggest reading them in order to keep the storyline consistent. I thought "Kathmandu" was perhaps the weakest of the four, but it redeemed itself for me by the end.
For anyone interested in Thailand (which I have to assume you are since you're reading my blog), mystery or thriller fiction, or are just looking for some great books to read, I highly recommend you check out Bangkok 8 and the other three books in the series.